Food Service Trays & Bakery Trays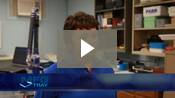 Molded Fiber Glass Tray Company offers an extensive line of products expressly designed for food storage, preparation and merchandising. Thanks to their composite construction, MFG Tray food service products offer inherent strength and weight-carrying capacity and can be readily stacked without sagging or bending. They accommodate standard baking temperatures and safely handle items to be frozen, refrigerated or prepped. MFG Tray food service products may be cleaned in conventional dishwashers or steam cleaned.
MFG Tray food service trays and containers are safe for food service. All materials used in the construction of these products are listed in NSF Standard No. 2, and in the USFDA Code of Federal Regulations, Title 21, of the Federal Register, Section 177.2420. The smooth, nonporous surface of composite products resists odors, stains and mildew and is not harmed by detergents.
Pan Extenders: MFG Tray pan extenders are an innovative solution ensuring straight edges for baked goods, eliminating trimming losses while preventing over-baking. Read more »
Trays: MFG Tray's comprehensive lines of display trays, non-slip serving trays and cafeteria trays ensure functionality, durability and easy cleaning for cafeterias, bakeries and restaurants.
Dough Trays and Boxes: Features such as airtight stacking, product protection and durability have made MFG Tray dough trays and boxes the industry standard in dough storage, proofing and handling. Read more »
Proofing Boards: Designed for use with standard proofing racks and boxes, MFG Tray proofing boards won't bend, warp or sag and are easily cleaned in standard washers. Read more »
Food Prep and Storage Containers: MFG Tray nest and stack containers, stacking containers and storage boxes ensure exceptional function and value for an array of food prep and storage applications. Read more »